When it comes to exercising, there isn't much harder than getting up early to go for a run. So why, you might think, do people get out of bed when it's still dark outside?? Unsurprisingly, the reward is worth the pain. Although it might be the last thing you want to do, if you can muster up the energy and motivation to get dressed and get out the door, you'll feel set for the rest of the day. Annoyingly, I've always been a bad morning person. I struggle to get out of bed and have a bad habit in hitting the snooze button on my alarm. However, forcing myself to get a morning run in has massively changed my general productivity and quality of exercise. Combine the fresh air, early movement and increased blood flow, and you'll feel a mental and physical boost too. Not convinced? Here are a few reasons why you should try it.
No clashes, no excuses
Running in the afternoon or early evening might seem like a much better idea, but what then if something comes up instead? Do you say no to those after-work socials, or do you prioritise running and exercise? What if a meeting runs late at work? Then you need to factor in meal times, work requirements, and so on.
An early morning run gets 'exercise for the day' out of the way, first thing. No more needing to go to the gym after work, or feeling guilty for cancelling a session. If you can get into an early morning run routine, there's no need for excuses. Plus, it means your evenings can be spent in comfy clothes, on the sofa, Netflix on, and with a well-earned glass of wine.
Enjoy the great outdoors
The morning is a great time to enjoy the great outdoors. Whether it's the sun rising or the frost on the grass, early miles captures 'the run' as it should be. So get up, admire the view, breathe the fresh air, and enjoy the peace and quiet of fewer people and cars!
And seriously, the air is fresher. Firstly, it's a cooler temperature. Secondly, pollution levels are at its lowest because the commuters are yet to hit the roads in their droves. Nothing like the crisp air filling the lungs.
Give your brain and metabolism a kick-start
After a morning run, breakfast will be much sweeter. Add to that feeling the fact your metabolism will be fired-up and already burning calories at speed… Additionally, as I mentioned at the very start, your productivity will improve. So, if you're heading to work after a morning run, your brain will be far more alert than it would have been. And, of course, increased alertness and energy helps job performance. For me, I hated getting to work and feeling sluggish, knowing that a couple of friends had already been out and got their daily dose of exercise in. Starting with one or two morning runs a week gave me the kick I needed, whilst keeping my evenings free to do the other things I wanted to do.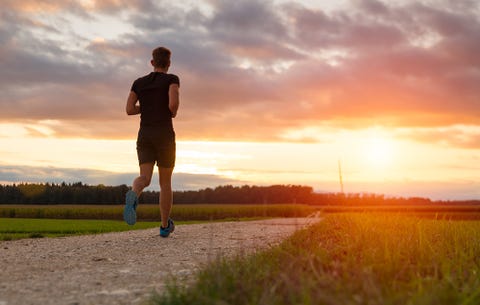 Here are some tips to help you get ready for a morning run:
Leave yourself plenty of time in the morning: Firstly, you don't want to be rushing or late for work. Secondly, you need to allow additional time for a cool down, stretch and shower.
Get prepared beforehand: Before you head out, organise your clothes for the day, so you are not rushing back or worrying – your only focus should be on getting a good workout in. It's wise to have your running clothes ready to slip on when you wake as well. Put your alarm/phone out of reach so when it goes off you have to get up.
Don't skip breakfast: Breakfast is an important part of your morning routine. If you run on an empty stomach, get your breakfast partially ready in case you are a bit behind schedule.
Add some variety with HIIT: If motivation is proving to be a struggle, try adding in HIIT. Including sprints and varying speeds into your run not only boosts fitness faster but makes it more enjoyable. Longer runs can be monotonous, after all.
In all hon­esty, the only argu­ment against going on a morn­ing run­ning is it involves choosing to leave the comfort of a warm bed and sacrifice the extra sleep time. Although it's tempting to ditch it, the ben­e­fits outweigh the detriments; an early morn­ing run still wins. Try going for a few early miles (it doesn't have to be long!) and see how you feel? It will be tough at first but, trust me, you will feel better for it!